A vessel classification system is implemented by the Testament Union to categorize ships that are of a similar design, more specifically its overall length; a separate system might be implemented to classify vessels according to purpose (like separating warships to merchant vessels, etc.).
List of Ship Classes
Edit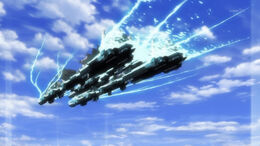 Ships are classified by its length, and is designated a name based on mythological serpent-like creatures from Middle Age literature.
Unclassified - shorter than 12 meters
Wyvern-class - 12 to 36 meters
Dragon-class - 36 to 108 meters
Kraken-class - 108 to 324 meters
Jormungandr-class - 324 to 972 meters
Ziz-class - 972 to 2916 meters
Bahamut-class - 2916 to 9748 meters
Leviathan-class - longer than 9748 meters
References
Edit
Kyoukai Senjou no Horizon Light Novels Volume 2A, page 158.